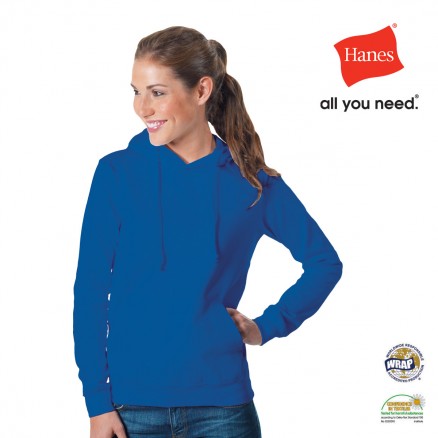 The Ezypromos Hoodies are the ultimate gift for your friends, colleagues, and workers. During the cold winter times, it's an absolute best choice to buy for your loved ones. This winter apparel offers not only the thoughtful good will and showing your friends that you care about them, but we offer you the unique way to promote your company brand. Screen printed or embroidered, it's your choice! The Hanes Women's Heavy Hoodie is just the right one for you.
Branded hoodies are the new craze in promotional product marketing. It's the ultimate way to promote and hype up your sporting association, sports club, or high school team. The great outdoors await, and there's no better way to get your company name or team out there. This classic women's hoodie is from Hanes, and the comfort and style are unbeatable. This may be the best way to promote and gain recognition when sports is in question.
The side-seamed design and tight weave give out extra comfort and superior quality. With 80% cotton and 20% polyester, the Ezypromos Women's Heavy Hoodie is especially made for comfort and warmth during freezing times, and a classic and stylish approach makes it appropriate for almost every event and occasion. The softly brushed fleece inside and tone-on-tone cord with fabric ends prove a valid point. It also has a kangaroo pocket and is available from sizes S to XL (size 8-14).
Great For Custom Print or Embroidery!
Additionally, the printing method goes as such: it can either be screen printed, or embroidered, as that depends entirely on your choice. Equipped with ribbed cuffs and waistbands, this is a classic approach to a high-quality hoodie. It's unbeatable.
The Women's hoodie comes in black opal, bright royal, grey heather, navy blue, and white colours for extra style points. We offer you the best in screen printing and embroidering, so that your brand name stays on the product as long as it lasts.
It's one of the most common ways sports organizations hype and skyrocket their brand awareness and they always have the job done and grab the attention of many sports enthusiasts. It can prove more efficient for great sports matches and high school sports gatherings.
By far, these hoodies are perfect for the winter and autumn seasons, offering nothing but high-quality and durability. It's perfect for your supporters and audience to keep them warm during important matches. It's great for kids, too! The great outdoors beckon, as you will find them very warm and comfy during long walks on the track or while you are fishing or strolling through the city. It's a fantastic clothing option in promotional campaigns, marketing, and raising brand awareness.
If you are seeking a fast way to keep your brand known and associated with true sportsmanship, be our guest and grab one of these. The warmth will help in boosting your brand among the very famous.
Hanes Women's Heavy Hoodie