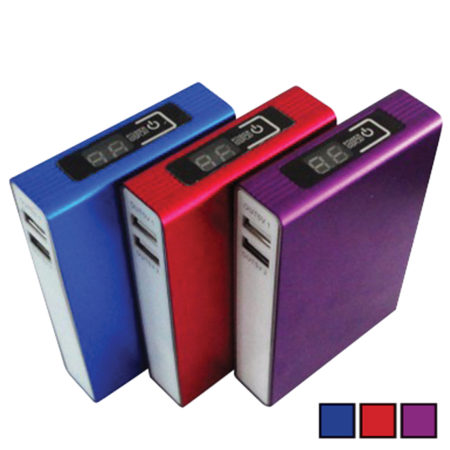 One of the more versatile power banks in the Ezypromos store is the Gladiator. There is no other better way to prove your company's brand than with our high-capacity Gladiator Power Bank. We offer you the unique way to promote your brand with printing your company's logo on the power bank to ensure your brand goes noticed.
With the coming trends of the wide array of extremely fast power banks, the Gladiator proves that a combination of speed and capacity is the way to go. The minimal design and the sturdy casing makes the Gladiator a very safe and durable power bank which uses 10400 mAh and can recharge from a USB port. We offer a complete design and print for the power bank, and we guarantee a flawless and precise image of the brand.
High Capacity For Greater Charge
The power bank has 10400 mAh and can easily charge your mobile phone or small portable device. It also includes a USB cable and it works on any device that has a Micro USB input and with an optional 3 in 1 cable with Apple 30 pins. The micro USB and Apple Lighting connectors are available at an additional cost.
Please feel free to contact us with any questions about the printing and the characteristics of the power bank. If you'd like to make designs for professional companies, always keep your cool with a minimal but keen design, and with a larger power bank battery capacity.
It's really no surprise why our Gladiator Power Banks are so popular with businesses looking for a memorable promotional item which remains a very distinctive top-quality power bank. Additionally, it is one of the more money-friendly choices you can make, from our vast array of power banks and system devices. If you want to promote your logo, go ahead and start with the Gladiator Power Bank.