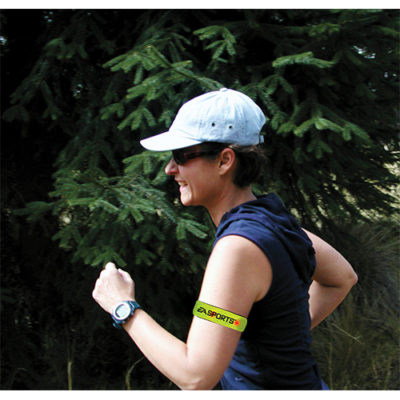 One can never be too careful on the open roads. Worry not, as our Ezypromo Wristbands have a fantastic product that not only boosts promotional value when buying one of our promotional campaign items, but also support and promote safety among road travellers, bikers and drivers. Our reflective wristbands are here to help!
If you are in need of some high-quality promotional items, try out very durable and comfortable Light-Up Reflective wrist and armbands. They can be screen or pad printed, both of which are fantastic options that depend on your choice.
Let's be honest, wristbands are one of the more important sales products and marketing tools of professional promotional marketing. They're practically everywhere. Our Ezypromos brand new wristbands, which offer protection and durability, can be worn anywhere. The brightly colored wristbands never fail to attract anyone's attention.
Reflective Wristbands for All Occasions
Your company or organization will benefit greatly from our Ezypromo Light Up Reflective Wristbands. It's also great for your friends and family, because of the double safety features this little gadget has to offer. It can be worn on the wrist and on your arm, and when activated, the 4 blinking red LED lights will light up, offering road awareness and safety precautions on the highways and streets.
It's the perfect wrist or armband for your children too, as you can never be too careful when road safety is in the question. An absolute necessary item during the night time, this reflective band proves a very obligatory apparel for road safety, as well as its promotional value. School programs can benefit greatly from this item!
Every successful promotional campaign uses wristbands and they are very modern, utilized by many companies, organizations, businesses, and corporate structures. It's the perfect promotional campaign tool which you can buy in bulk. We also have the Ezypromo 12mm non-adjustable Wristbands in stock if you would like to use some good old regular wristbands. We have a wide array from which you can choose from.
Prefect As A Promotional Product
The Ezypromo Light Up Reflective Wristband is the perfect promotional tool for your promotional campaign or business standard. It can draw the attention of every passerby and can be easily handled. It's a top notch, high quality wrist and armband with exceptional durability and safety. Your brand name will not be overlooked.
Ezypromos give you an opportunity for ultimate promotional value. It is very easy to have your name or logo branded on our promotional items and you can tag your company's name as well! The promotional wrist and armbands come in bulk and the types of wristbands you can choose are many. Please feel free to contact or email us and we can give you a few suggestions from which you can choose from, as we can help you decide what is best and which ideas you can apply for your business' promotional needs.
We have vast quantities and types of wristbands, and the most purchased products from our wristband items are the silicone wristbands, most popular for their bright colors and fantastic printing. Offering durability, style and safety, the Light Up Reflective wrist and armbands are a high-quality standard which lasts longer than the other wristbands you might find on the market.
Our Ezypromo Light Up Reflective Wristbands can fit on anyone's arm and hand. A necessary item for schools, kindergartens, and safety programs, they are a fantastic promotional item which offers satisfaction in many ways.