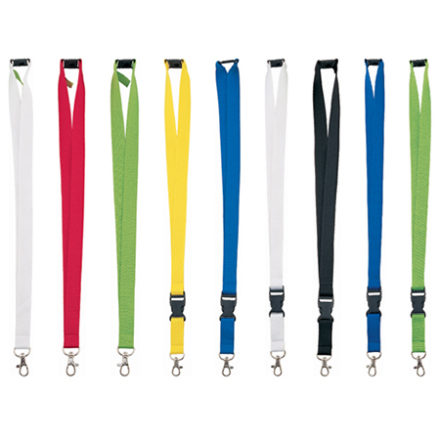 If you are looking for low budget promotional items, the best place to start is lanyards! It's very simple and easy, not to mention cheap, and it drastically boosts your promotional value. Your company, friends, and colleagues will be pleased to see a current standard item well within your promotional ranks. It's the best place to start when it comes to promotional value, as it is one of the most basic items you can start with.With that one must acknowledge lanyards as the fundamental promotional item.
Every marketing manager confirms that among the best promotional products you can boost your company with, it's definitely lanyards. Stretching the dollar even further comes with ease, as lanyards are in the minds of every decent marketing strategist, when promoting your brand is in the question. Corporate companies, schools, sports teams, and many other institutions and organizations just can't function properly without popular items such as these.
Cheap for Promotional marketing campaigns
Tried and tested, well-adjusted with absolute material quality, going back to basics does not sound bad at all. Lanyards for your promotional campaigns may be the best choice you can make if boosting your brand awareness is a must. It's cheap, practical, high-quality, and durable.
It's practical because of the high demands that people tend to make. Everybody needs a place to carry their stuff like ID and credit cards, backstage passes, keys, bottle openers, and all kinds of other stuff they can't go without. This is why it's so practical. A no brainer! Additionally, handing out printed lanyards is always a pleasant surprise, as it's ultimately the best gift to say that you care for that person by saving them from frustrations that result in lost keys or cards. You won't imagine the statistics on the prospect of "lost and found", as we all tend to forget important stuff.
Lanyards As The Fundamental Promotional Item
That being said, current economic environments are not efficient if they have no incentive for a proper promotional product, if they don't even have very usable and current items such as lanyards, mugs, or pens. This is where the lanyards come in to save the day. Not only are they cheap, but we at Ezypromos use the latest and greatest technology that makes them highly durable, and colour-sturdy. They seem to never age, and effortlessly withstand the test of time.
You will need something to secure and organize your stuff that you carry with you at all times. We offer you a variety of attachments and lanyard styles which are tailored to your needs, and we also offer you custom lanyards for your every need. Just name it! Be it a product launch, brand name boosting, gifting, or promotional campaigns, you just can't go wrong with a proper lanyard to have your brand name on an item that offers security, utility, and durability.
We at Ezypromos are a leader for promotional supplying and brand boosting. Among our lanyard products, you will find a massive variety of promotional items that will suit your every need. We are a premium supplier of promotional items and corporate products that skyrocket your brand awareness in Australia. You can always contact us via email or website or you can give us a call any time.
Lanyards As The Fundamental Promotional Item