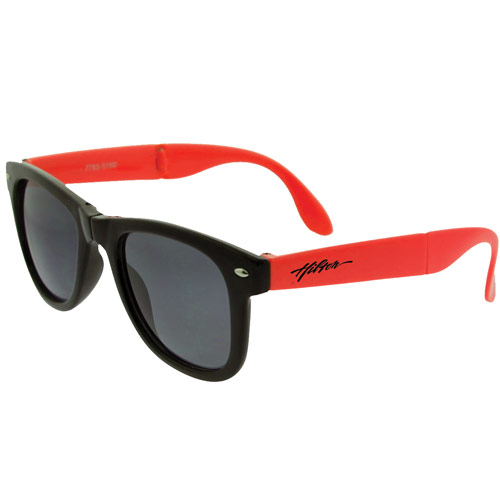 When the famous hard rock band, ZZ Top, advise you to: "Go get yourself some cheap sunglasses!", you might as well consider it. Ezypromos offer you fantastic promotional products for the summer days. Everybody rocks sunglasses during sweltering days, and this might be a fine advertisement and promotional campaign opportunity for your up and coming business. Check out our promotional sunglasses for your next campaign.
Your enterprise will boost their brand this way triple-fold! The marketing impact of fine promotional sunglasses is not to be trifled with, as most companies go with boring old shirts and dated merchandise. Sunglasses are the real deal and they are crucial for your promotional campaign! Here are some of the highlighted sunglasses that we have, guaranteed to catch the attention of many:
Which Promotional Sunglasses Should I Use?
Ezypromos offer you a lovely choice of the Retro Adult Sunglasses. Fantastic UV400 Lenses that guarantee maximum protection from ultraviolet rays. The stylish sunglasses will catch the eye of many passersby and they are reminiscent of the 80s with their 20×20 style. The price includes imprint on one arm only, and the branding guarantees that your logo will be recognized by many. They are available in colours: Red, Blue, Green, and Black. The logo goes screen printed or pad printed, depending on your choice.
Another fine set of sunglasses that you may purchase in bulk is The Riviera Sunglasses. These colorful sunglasses are made with high-quality polycarbonate material and offers absolute durability and lightness. If you want the more lean, stylish look, then these sunglasses are for you! The lenses of the Riviera are UV 400 and provide 100% UVA/UVB protection and are available for purchase.
The McAllister Sun Shades are one of our more stylish sunglasses that are a real buzz. They are guaranteed to grab the attention of many people, and are perfect for gifting too! These stylish adult sunglasses offer exceptional UV protection and are only available in black. These Category 3 sunglasses also offer sun glare reduction, as the lenses are also UV 400. Nothing beats good, old-fashioned minimalist approach when style is condensed into a single product such as the sunglasses. It's a beach conqueror!
Classic and Modern Look Sunglasses
The Ezypromos Sportsman Sunglasses come with reflective lenses and are a true classic. They are fantastic for the great outdoors when you are cycling, and for other promotional events. It's the ultimate in sportsmanship sunglasses and their maximum UV 400 protection against ultraviolet rays offer safety during those sunny days. If you are gone fishing, hunting, cycling, mountaineering, then these babies will get the job done. They are also fantastic as a gift.
One of our more quirky sunglasses that we have in store are the Collapsible Frame Retro Sunglasses. For those of you who like to invoke the spirit of James Dean, these retro sunglasses are equipped with unique folding bridges and temples for the most comfy and compact approach ever. Easy to carry, easy to fold, the brightly colored retro sunglasses are an absolute stylish bullseye. They can be folded into the size of your palm and they are also a very thoughtful gift for your colleagues and friends! Equipped with UV 400 Lenses to protect against ultraviolet.
Promotional Sunglasses