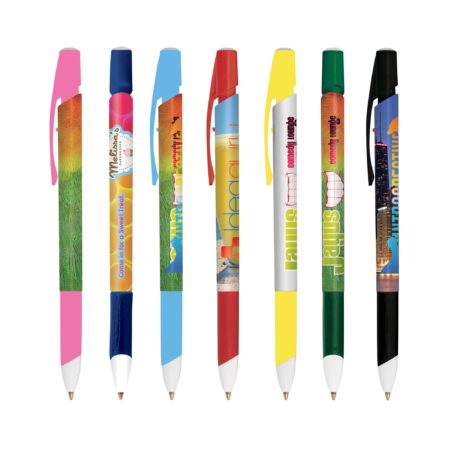 All of us have picked up and used a BIC pen at sometime or another. They have been a staple of the Australian stationary industry for years now and have great brand recognition. What many people might not realise it that BIC is more then just a consumer brand. It is also heavily involved in the promotional industry.
BIC is known for producing good quality pens, stationary and writing instruments. They specialise in all sorts of ball-point pens and stationary products. You would have seen them for sale at your news agent and supermarket where they are a popular item. At Ezy Promos we have a large collection of BIC pens to fit your budget.
Why buy BIC pens?
Here are some reasons you should choose a BIC pen for you promotional campaign:
Reliable quality – BIC pens are reliable and of good quality. You can trust every BIC pen you purchase to perform as you expect it too. Some BIC pens are known to write more than 1.2 miles without problems.
Variety – These pens are available in different forms, colours, and styles. You can purchase pens with rubber grips, plastic bodies, metal bodies, with colourful print, etc. We also have a collection of BIC styluses if you want to give something unique and interesting to your customers.
Budget – This brand of pens are also quite affordable, despite their premium tag. The price of some of these pens is as low as $0.73 so you'll definitely find something that fits into your budget. You'll also get better discounts and offers if you purchase in bulk.
Reputation – BIC is a well-known company that provides good products. If you gift promotional BIC pens to your customers, your reputation will improve and you'll have a lasting impact on your customers.
Customisable – These pens are customisable so you can place your company name or logo on them and turn them into promotional products. We use the best possible printing technology to ensure your branding is clear and visible.
If you want good quality branded BIC pens, you don't need to look beyond us at Ezy Promos. We have a great collection of BIC and other premium pens.